George Dyson: St Paul's Voyage to Melita, Nocturne and Agincourt
$

18.80

Duty free delivered outside the EU

In stock. Ready for immediate despatch, delivered worldwide.
Listen to a sample from George Dyson: St Paul's Voyage to Melita, Nocturne and Agincourt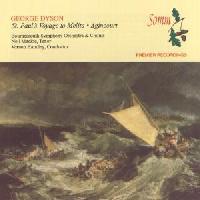 Two very important orchestral/choral works by Sir George Dyson. Interest in Dyson's music is gradually stirring to life after decades of neglect. St Paul's Voyage to Melita and Agincourt both show Dyson's love of words and voices. St Paul's Voyage is a choral work in one movement with a part for solo tenor linking various sections of the narrative. Agincourt, a piece in six sections divided by short orchestral links, takes words from Shakespeare's Henry V. Nocturne is written for solo tenor, solo viola, strings, harp and organ, and uses the words of the poet Robert Herrick.
Tracks on this CD
George Dyson St Paul's Voyage to Melita
1.
St Paul's Voyage to Melita
George Dyson Nocturne
2.
Nocturne
George Dyson Agincourt
3.
Agincourt